Hunting with Safari Max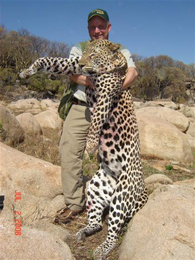 Many hunters want to go far away to hunt. If you organize the trip yourself, problems may accure, like the paperwork and misunderstandings about what rights you have etc.
That is why there is an advantage that our firm knows the traps and the possibilities.
That way it gets easier and cheaper for you to forefill your huntingdreams.
We can offer huntingtrips and the travel you always have dreamt about.
The picture to the left is a Safari Max hunter with the second biggest Leopard on the Scandinavian list of Safari Club International.
Hunting in Africa is perfect for all kinds of hunters.
More people than ever go to visit this fabulous continent.
Our company specializes on hunting in many countries. In Africa, mainly in Tanzania, Zimbabwe on the large animals. South Africa and Namibia where we have access to some of Africa`s best areas. The Selous area in Tanzania is well known for big herds of large buffaloes, elephants and lions. The area is enormous and without any obstacles like fences and farms. In Zimbabe we have had a large numbers of successful hunters for large animals like Buffalo, Elephant, Leopard.
In Alaska and Yukon we have acess to very good areas for Moose, Grizzly Bears and Dall Sheep. In Canada we have very good areas for Black Bears.
We have chosen not to have a lot of destinations. This is because we want to know our destinations and partners well enough to be ensured that the hunters get the best opportunities for a good hunt and a good stay.
We only have destinations that we know will give the hunters possibility of getting the best trophies and a great hunting experience.