In the wild and beautiful Alaska, we have access to hunting on several species. Mainly bear and moose. Brownbear or Kodiakbear is huntable at the Kodiak islands. Up in the mountain one can hunt Grizzly. There is a large number of Blackbear. There is access to hunt Sitka blacktails, deer, sheep, mountain goats and wolfs as well. If you get some spare time during the hunt, you can go fishing in the rivers and lakes. There is a good opportunity for fishing several kinds of fish. Also we have own programs for those who want to go fishing only.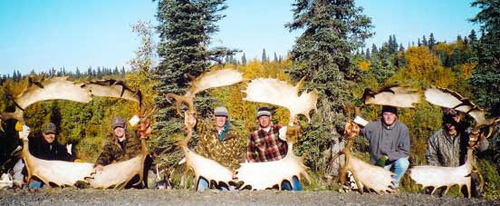 This is the hunt for those who want to go hunting for the large animals in the great wilderness. Many of these hunting areas can only be reached by using bushplanes.
The bears who lives by the coast are often a bit larger because of better nutrition. In the rivers there are large amounts of salmon who is rich on proteins.
When hunting moose and bear, one observes them by using binoculars, and then one sneaks upon the animals. This is a very exciting way of hunting! Usually the base is a huntingcamp which consists of small cabins or in some cases tents.
Prices:
Blackbear from USD 4500
Grizzly/brownbear from USD 9500
Moose from USD 10000
Dall sheep from USD 9500
Wolf from USD 4500
Mountain Goat from USD 6500
Caribou from USD 3500
Sitka blacktail deer from USD 2500
Prices do not include license and tag fees. They are subject to change by State of Alaska.